Hattersheim's open-air swimming pool is one of the most attractive open-air swimming pools in the Main-Taunus district and is generally open from the start of May to the start of September.
The following facilities are available, among others:
bottom jets
waterfall
power massage showers
1m board and 3 m platform
5 50m swimming lanes
45m water slide
5m children's water slide
In addition, the pool has a new circulation and filter system with pool water heating and a solar-heated shower system. The water temperature is 23 °C. Every Friday is a warm swimming day. The water is heated to 25 °C that day.
There is something for all of our guests on the large games field:
Basketball field
2 table tennis tables
2 large football fields
1 small football field and
2 beach volleyball fields
1 slackline.

The family area, which is covered with a sun sail, has been redesigned to offer a play and splash pool with a sand and mud play area, seesaw, wobble figures and nest swings.
The sunbathing lawn of around 24,000 m² offers plenty of shaded space, thanks to its mature trees.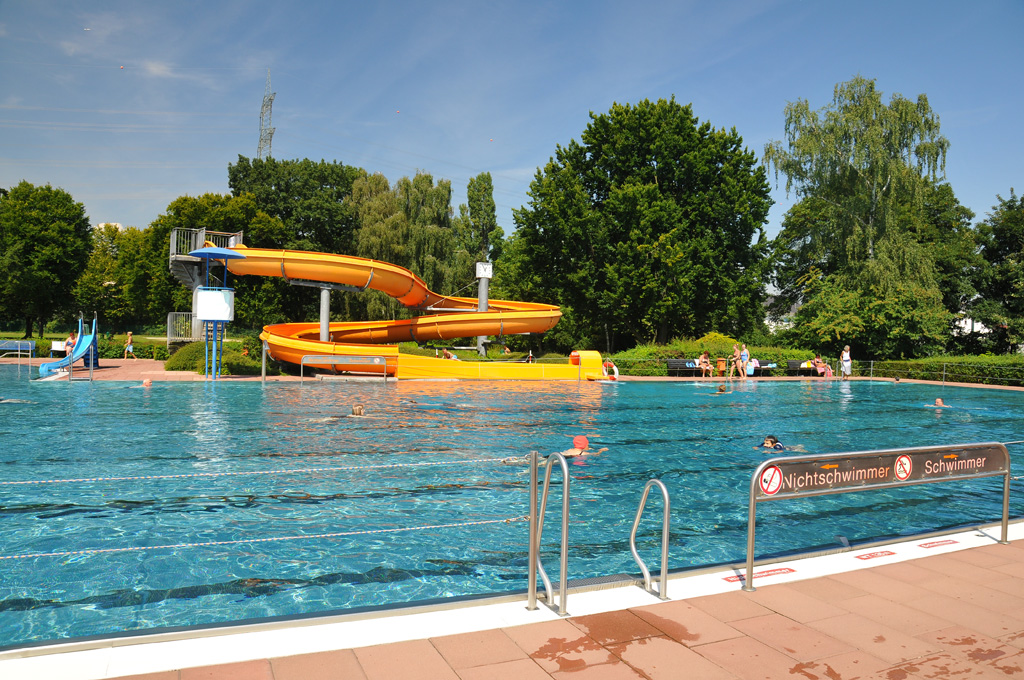 Förderverein Freibad Hattersheim - Aktiv (FFHA e. V.)
In June 2012, the Hattersheim Open-Air Swimming Pool Association was founded. Objective and task of the association is to permanently maintain the swimming pool, to support the operation of the ppol and to improve its attractiveness.
For many citizens, the open-air swimming pool is an important leisure activity – perhaps the most important one (based on visitor numbers) in Hattersheim. It's a meeting point for every age – a for enjoying life and staying healthy. To make sure the pool remains available for the citizens in times of financial crisis, the association supports the city am Main in its efforts to reduce operating costs and increase the facility's attractiveness.
You will find further information on plans, campaigns and shared events on the FFHA e. V. website.